&nbsp&nbsp&nbsp&nbsp&nbsp&nbsp&nbsp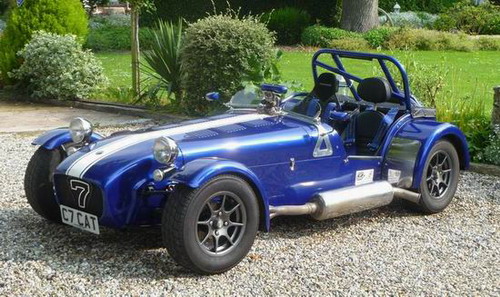 &nbsp&nbsp&nbsp&nbsp&nbsp&nbsp&nbsp

This website is about the life and times of our Caterham 7. We are Chris and Maggie Alston and we've been members of the Caterham & Lotus 7 Club of Great Britain since March 1998. It all started in February 1998 when Maggie hired a 7 for my birthday.

The car was first registered on 1 January 1993 and when we purchased it on 6 February 1999 we became it's 4th owners. It was a standard 1700 Supersprint when we purchased it, but over the years it has been upgraded to a higher specification. Between October 2007 and May 2008 a major rebuild was undertaken. A further upgrade became necessary after the x/flow engine 'let go' in July 2010 whilst touring in Andorra and subsequently over the winter of 2010/11 a Raceline Zetec engine was installed. In the following winter 2011/12 the fuel system was upgraded from Weber DCOE 40s to Jenvey throttle bodies. In 2015 it was rebuilt again following an RTC in Switzerland.
The 7 has clocked up over 75,600 miles since it's been in our possession and over half of those miles have been in France, Switzerland, Germany, Austria, Italy, Belgium, Luxembourg and Andorra.
In 2021, after 20 years of touring abroad, we purchased a Mazda MX5 to retire the Caterham from touring duties and to develop it more for competition use.
* * * Click here for recent updates * * *
History of the 7&nbsp&nbsp L7C Activities&nbsp&nbsp Low Flying&nbsp&nbsp Track Days&nbsp&nbsp Sprinting & Hillclimbing&nbsp&nbsp Touring
Technical Data&nbsp&nbsp Chronology&nbsp&nbsp Rebuild&nbsp&nbsp Zetec&nbsp&nbsp Jenvey/Emerald&nbsp&nbsp Swiss RTC
What they said...&nbsp&nbsp Seven Paraphernalia&nbsp&nbsp Motorsport&nbsp&nbsp Models&nbsp&nbsp Books&nbsp&nbsp Miscellaneous
LEGO®&nbsp&nbsp Other Activities&nbsp&nbsp MX5&nbsp&nbsp About Us&nbsp&nbsp




This website was last updated on 23 January 2023&nbsp&nbsp&nbsp&nbsp&nbsp&nbsp&nbsp&nbsp&nbsp&nbsp&nbsp&nbsp&nbsp&nbsp&nbsp&nbsp&nbsp&nbsp&nbsp&nbsp All rights reserved © 2003-2023 Chris & Maggie Alston