Conversion from Carbs to Throttle Bodies - Winter 2011/12
Further to the conversion to Zetec the previous winter I still felt there was more to come from the Zetec and decided to upgrade to fuel injection. This would provide more power and torque and more overall driveability. Another reason was to catch up with other competitors in Class 4 of the club championship. The power limit is 190bhp and I was only running at 170bhp.
After much research I decided to buy from Emerald and Richard Hoare was helpful in assisting me to put together a package of all the various bits I would need. Richard was also extremely responsive in dealing with any queries that I had.
| | | |
| --- | --- | --- |
| | | |
| Emerald K6 EMS | Flying loom on ECU plug | Jenvey DCOE TBs & Emerald ALIs |
In addition to the above I needed 320cc/min injectors, 2-pin mini timer plugs, Jenvey fuel rail and throttle linkage, air temperature sender, water temperature sender and adapter, FSE adjustable fuel pressure regulator, Ford coil pack plug, throttle potentiometer, 3-way map switch, fuel injection filter and Pipercross foam air filters. These were also sourced from Emerald.

Further more I decided to change the fuel tank and pump to an injection one rather than adapt the old carb tank and this involved buying an in-tank injection pump and gasket, breather valve and stainless steel braided high pressure fuel hose. Fortunately I was able to pick up a second-hand but unused injection tank whilst selling on the carb tank. A fuel relay has also been added.

See below for a few photos of the final installation.
Emerald's ALIs have been set at 140mm to give the maximum torque figures....

...and this necessitated using the Pipercross deep foam filters
The installation was finished in January 2012 and it was booked into Emerald for a rolling road session on January 25. Dave and John set about their work and we decided on a sprint, touring and, for fun, a pop'n'bang map.
The final results were, 189.8 bhp at 6,512 revs and 167.5 lbft at 4686 revs.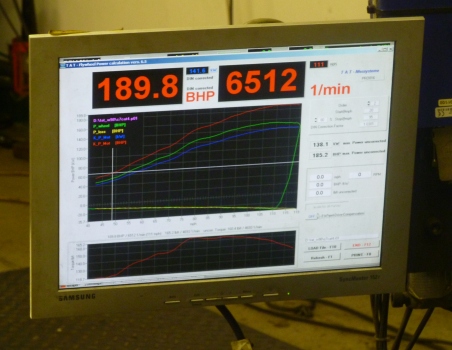 As ever, with any modification, there are a few problems to be solved and queries to be answered and I'm very grateful for Richard at Emerald for his willingness and support, especially in answering emails pretty much by return. Once again I am indebted to Brent Chiswick who has spent many hours not only in my garage helping me with this conversion.
The new engine has dramatically changed the way the car drives, a few extra ponies always helps, and I will look forward to, hopefully, many more miles with this upgrade.