About Us
Just so you can put faces to names, this is us!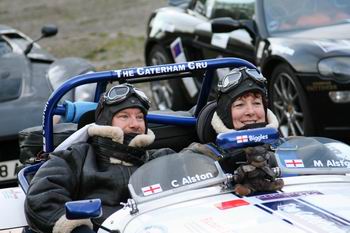 Feel free to email us.

Maggie accompanies Chris on L7C trips and sprints and occasionally joins Chris at L7C club meetings at the North Kent meet, the Kent & East Sussex meet and the Weald meet.
Between us we have toured for many thousands of miles in France, Germany, Belgium, Luxembourg, Switzerland, Austria, Italy and Andorra as well as all over the UK and have made so many friends over the years, it is fair to say a lot of our social life now revolves around the Seven and our 'sevening' friends. We do, however, have other interests: Chris takes part in table tennis, clay pigeon shooting and plays in a local darts team and Maggie enjoys singing with Hailsham Voices Community Pop Choir, volunteers at Wealden Talking News where she is the Minutes Secretary and works on the Editing Team and also loves writing, having self-published a memoir entitled 'Coming to Terms' on Amazon. We also both like watching many sports including football, cricket and motor racing.
We retired in July 2021, Chris having worked as an Accountant for 25 years, decided he needed a mid-life crisis and retrained as a Driving Instructor in 2004. Maggie worked in various PA roles in London for 30 years, was then Office Manager within the private jet world at Biggin Hill Airport for 10 years and for the last 6 years worked in various local temporary roles.
Having lived in Orpington, Kent for 16 years, we moved to Heathfield in East Sussex in 2014.