Castle Combe
These pictures were taken in October 2001 when I attended the All Car Run in aid of The Stroke Association and managed to negotiate an hour's track use at lunchtime and, for me, one of the highlights of the day was a few fast lap rides in the Austin Healey.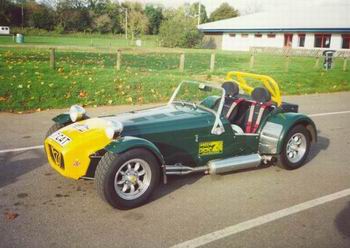 I returned again in October 2002, this time securing a place as one of the cars offering lap rides to the public for donations to charity. In essence, a free trackday.
In the afternoon session I went out for a few quick laps with Oliver Bull (Winner: Caterham Academy 2000 and 4th in Caterham Super-Graduates in 2001) and as a result have even more admiration for people that race 7s as opposed to simply taking part in trackdays. An awesome and exhilarating performance and experience.