Perigueux 2007
This year, our group comprising Jenny & Steve (this year's voluntary organisers), Brent & Tricia, Mike & Tam, Clive & Yvonne, Mike & Valerie, Adil and Crudders, headed down to a property called Le Bourdil Blanc in Saint Sauveur, Bergerac.
As before, we decided to all meet up at the Ashford Travelodge at Junction 9 of the M20 so we could arrive in convoy at Speedferries in Dover, and that's where the problems began! As we stopped at the roundabout, we were hit from behind by Brent and it later transpired that he had suffered total break failure. As I looked in my rear view mirror, all I could see was steam rising from Brent's nosecone. Unfortunately for Brent & Tricia, their car had scored a direct hit on my spare wheel carrier which resulted in a holed radiator and split nosecone. Although our car suffered some minor structural damage at the back, we were the lucky ones as we were able to continue with our Seven, leaving poor Brent & Tricia to be recovered home to Hampshire. They were later to join us that same evening, having made the trip on the evening ferry in their tintop. No one was injured and this was somewhat fortunate given that the aftermath could have been a lot worse.
No more than 20 minutes later, Mike & Tam suffered a failed alternator and as we made our entrance to the port, they peeled off to buy a replacement and fixed their car before catching the afternoon ferry.
After disembarking at Boulogne, the remaining cars made their way to our first overnight stop at L'Île de Sées in Vandel, Macé near Sées on Thursday night. For the first time, we had all acquired a Télépéage toll transponder from Sanef, and this proved invaluable in making good progress through the tolls as a convoy.
This is the third time we have stayed at L'Île de Sées and following the inclusion on his website of a picture of our Sevens, Nicolas, the owner, claimed a significant increase in bookings as a result and in turn, recognising this fact, he gaves us all reduced room rates and free breakfast!
Prior to our departure, the weather in the UK had been very unsettled and we were all relieved to get to the port and start our journey at Boulogne in the dry. However, as you can guess, this wasn't to last for long and we got a bit of a soaking an hour outside of Macé.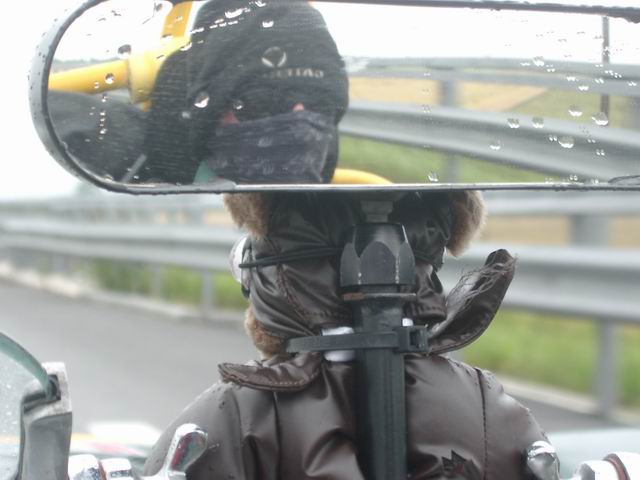 Full face protection required in the rain with aeros
En route to L'Île de Sées, Maggie managed to get photos of some of the Sevens in our convoy.
| | |
| --- | --- |
| | |
| Tam & Mike | Steve & Jenny |
| | |
| Mike & Valerie | Yvonne (and somewhere) Clive! |
As in previous years, we made the obligatory pilgrimage to Arnage for lunch and a blat round the public part of the Le Mans 24 Hour Circuit, taking in Mulsanne Straight, Indianapolis and Arnage Corner.
The second day was perfectly dry and sunny and protection was at last required from the sun! Whilst we had a 'comfort stop' at Bonneuil-Matours, two French 'Sevens' (a Caterham and a Martin), happened to pass and did a u-turn to come back and chat with us. The Martin came complete with its own unique trailer. Having admired each other's cars and taken the requisite photos, we bade our farewells and headed off towards our next destination.
| | |
| --- | --- |
| | |
| | |
| | |
| | |
| | |
| | |
| | |
| Alternative Eiffel Tower | On the road again... |
Our second stop was at Route 66 Bikers Hotel in Bussiere-Poitevine, south of Poitiers, on Friday night. As you can see from the following photos, this was something else! The hotel is run by an Englishman, Harry, who is a little eccentric to say the least! On arrival, despite it being a bikers' hotel, he warmly shook all of us by the hand, marvelling at our Sevens and insisting that he provided overnight parking for them in the barn. A good evening was had by all and partying went on until gone 1.30am.
| | |
| --- | --- |
| | |
| Barn parking | Admiring the ceiling decor |
| | |
| Harry's bikes parked in the bar | Harry's Bar |
| | |
| Dining room! | One of Harry's rules was that graffiti was mandatory! |
| | |
| Just don't let Steve near a German WW2 helmet and permanent marker pen when he's had too much to drink! | Harry in his normal state! |
| | |
| --- | --- |
| | |
| A man of many talents! | One of Harry's hens who resides in the pot plants in the corner of the bar! |
| | |
| Our day of departure | Obligatory Seven line up outside the hotel |
| | |
| --- | --- |
| | |
| Harry's Harley Davidson Chopper and Soft Tail | Live to Ride |
At last the weather showed signs of improving, in fact the Saturday journey to our final destination at Le Bourdil Blanc was one of the hottest days of the holiday. Here are a couple of convoy snaps taken by Maggie on the move...
... and then we finally arrive at our destination, Le Bourdil Blanc.

| | |
| --- | --- |
| | |
| Anyone for tennis? | Guess who's being tipped out of the window?! |
| | |
| Haven't we been here before? | The usual field of sunflowers |
| | |
| Entering Issygeac | Narrow streets of Issygeac |
| | |
| Another convoy photo! | ...and yet more sunflowers! |
| | |
| Another well-known sight in France | The loudest shirt competition |
| | |
| Tremolat (with the smallest market ever!) | A visit to Brantome |