Loire Valley
After two very successful Bordeaux Blats in 2002 and 2003, we decided to give an opportunity to other Club members to sample the hospitality of Hugh & Kay and other villagers in Montignac. However, as a group we had enjoyed ourselves immensely so decided to 'go it alone' and organise our own trip to another wine region. We eventually all settled on the Loire Valley and rented two adjoining gites in Chambourg-sur-Indre near Loches in July 2004.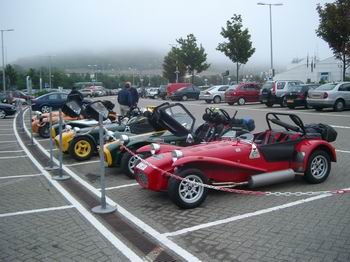 Congregating at Folkestone around 6am!

The Manor

The Grange

Interior of The Manor

Interior of The Grange

Mmmm, that smells good!

We will have this BBQ outside!

The 3 wise men playing air guitar

How many for dinner?

Chenonceaux Chateau built for Henry II
in the 16th Century

Gallery across the River Cher
for Catherine de Medici, Henry II's wife

Landscaped gardens for Diane de Poitiers
Henry II's mistress

Back at base, a colourful array of 7s...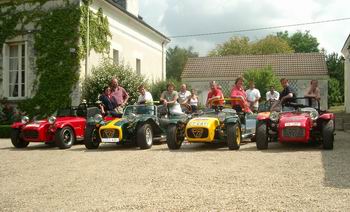 ...and their owners!

The wine (and food) at the restaurant overhanging the weir was excellent, so we took a photo of the label and...

...sought out the vineyard the next day!

These are the caves of M Daniel Jarry who very kindly showed us around

After an extended wine tasting, we bought 72 bottles of wine between us!

A moving shot of a Hotel de Ville we flew past
en route to somewhere!

The Citadel of Loches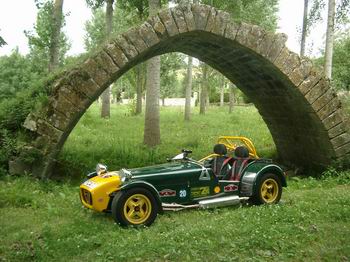 C7CAT under the Pont Romain in Chambourg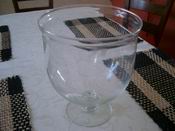 &nbsp&nbsp&nbsp&nbsp&nbsp&nbsp&nbsp&nbsp&nbsp&nbsp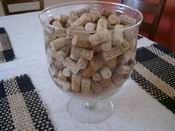 Before and after shots of wine consumption between 16 people in one week (hic!)

| | |
| --- | --- |
| | |
| And now for something wheely different! | Last meal of the holiday in Loches |