La Rousseliere, Lower Normandy
July 2018
Many thanks to Tim & Laura for letting us stay at their beautiful gite in St Christophe Le Jajolet, in Lower Normandy for a second time. During our stay on this occasion we visited Arromanches Museum and the Mulberry Harbour, the Bayeux Tapestry, the Maison de Camembert, Bagnoles-de-L'Orne, markets at Le Mele sur Sarthe and Athis-de-l'Orne, a rocky outcrop with wonderful views at La Roche d'Oërte and an evening boat trip on the Val d'Orne. We did almost 800 miles on the trip and the photos can be seen below.
Arromanches
On June 6th 1944, some 4,126 Allied ships successfully achieved the greatest landings in history on the beaches of Normandy, taking the Germans totally by surprise. The Mulberry Harbour was constructed in Arromanches, a truly extraordinary technological feat which provided the key to victory in Normandy. A museum was built on the site of the artificial harbour and its remnants can still be seen a few hundred yards away from the shore.
Musee du Debarquement

Mulberry Harbour 1944

Floating roadways, piers and 'kite' anchors
became the key to victory in Normandy

Some remains of the harbour still in evidence today

5.5" Medium Gun Mk III

German 88mm Anti-Tank Gun

A Banksy-esque mural on a wall near the Museum
Bayeux
| | |
| --- | --- |
| | |
| Bayeux Cathedral | River Aure in Bayeux |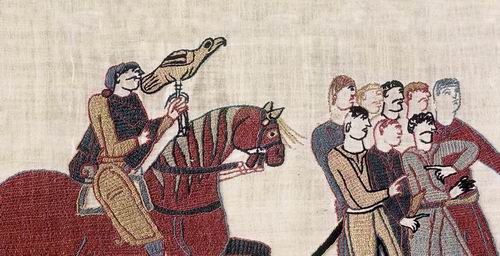 The Bayeux Tapestry is an embroidered cloth 70 metres long and 50 centimetres tall,
which depicts the events leading up to the Norman conquest of England concerning William, Duke of Normandy
and Harold, Earl of Wessex, later King of England and culminating in the Battle of Hastings in 1066.
It is thought to date to the 11th century and tells the story from the point of view of the conquering Normans.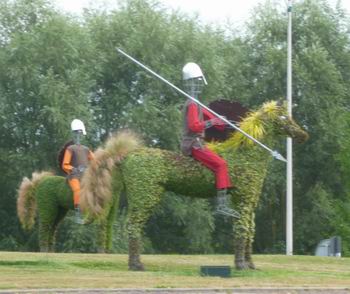 Some topiary sculptures on a roundabout in Bayeux
La Maison de Camembert
| | |
| --- | --- |
| | |
| We visited the Maison de Camembert... | ...a museum that showed the history of this famous French cheese |
| | |
| | |
| | |
| | |
| | |
| | |
Some Camembert-related cartoons of previous French Presidents on the walls of the museum
Charles de Gaulle
"Camembert! A Normandy Village that also intends to stay!"

Georges Pompidou
"When you think, he's from Auvergne!"

Valery Giscard d'Estaing
"The best choice is Camembert!"

Francois Mitterand
"France from above, France from below, we cohabit all!"

Jacques Chirac
"I vote 'useful'!"

Nicolas Sarkozy
"You know Segolene, the polls are refined, like Camembert!"
La Roche d'Oëtre
La Roche d'Oëtre is located in Swiss Normandy.
It stands at 118m, overlooking the Rouvre gorges.
Evening cruise on the River Orne
Whilst in Normandy we did a dinner cruise on the Val d'Orne

From Putanges Pont Ecripin round La Lac de Rabodanges

Captain's Mate!
La Rousseliere
| | |
| --- | --- |
| | |