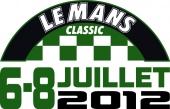 As in previous events Ian Bruce and Paul Symonds organised for the Kent Sevens (& guests) to make the pilgrimage to Classic Le Mans. The final roll call was 20 cars and 25 people and it had been arranged for us all to stay in a wonderful place called Chateau de Montaupin in Oize from Thursday 5 to Monday 9 July.

We all travelled across on the early morning Le Shuttle and headed for the, by now, traditional lunch stop for 7s at Gace, where, as ever, we are warmly welcomed. After lunch we blatted down to the chateau which is about 25km south-west of Le Mans.

On arrival Madame greeted us and promptly showed us to the beer fridge! The organised 'package' comprised 4 nights accommodation, breakfast, 100 beers, fruit Juice, tea/coffee, use of pool, grounds, TV in dining room for Grand Prix, weekend entry ticket, paddock pass, Dunlop grandstand ticket, access to multi-marque parking area in the Bugatti circuit area.

Thursday night was spent relaxing in the chateau and enjoying a fine meal provided by madame. To date the weather had been kind but this was all to change.... Friday morning saw most of us head off into Cerans to fill up. Most then went on to the circuit and others, including myself, went back to the chateau. I had heard an irritating clicking sound coming from my brakes as we neared our destination the previous afternoon so I wanted to inspect the brakes to check all was well. Eventually we came to the conclusion that it was nothing more than 'pad rattle'.

A small group of us then made our way to the circuit and made use of our designated parking area inside Le Bugatti circuit and it was on our way to the pits that the heavens opened up.... eventually the sun came out again, but this pattern of heavy showers and sun was to stay with us for the whole weekend.

Here are a selection of photos from the trip....