Brittany
Following on from our trip to the Loire Valley we decided to stay an extra week and headed up to Brittany, staying in a converted barn in Parigne near Fougeres, which we used as a base to explore Brittany and Normandy.
C7CAT in front of our gite 'La Peignardiere'

Vitre Castle built in the 15th Century
for Guy XV de Laval

One part of the castle that definitely needs renovation!

Wooden stalagmites?
(We believe they are roots from nearby trees?)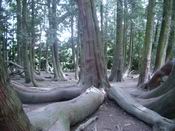 &nbsp&nbsp&nbsp&nbsp&nbsp&nbsp&nbsp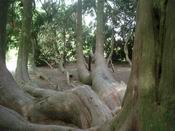 We came across this tree in Fougeres but we don't know what it is?
Answers on a postcard to ...
A fort linked by a small causeway to the walled city (Intra- Muros) of St. Malo

Fougeres Castle built in the 11th Century
for the Duchy of Brittany

A tranquil scene in the village surrounding
Fougeres Castle

You just can't get the staff these days!

The flowers are pretty, but the house number was an added bonus!

Fougeres Forest which we had to drive through every day as our gite was on the other side!

The rather grand Town Hall in St. James, near Parigne

Shop windows in St. James painted with D-Day scenes

Mont St. Michel through the mist

Mont St. Michel up close and personal

Well, would you sit there with a herd of cattle approaching?!

We took a photo of this plaque for one of Margaret's work colleagues whose grandfather was in the Resistance. The Place was named after him in gratitude for his endeavours.
Normandy
| | |
| --- | --- |
| | This is St. Mere Eglise, the parachutist and the surrounding battles were immortalised in the film 'The Longest Day'. St. Mere Eglise was the first town liberated by the Allies in the Second World War. |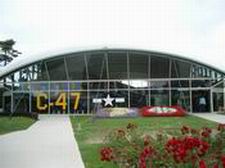 &nbsp&nbsp&nbsp&nbsp&nbsp&nbsp&nbsp&nbsp&nbsp&nbsp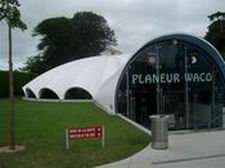 These American museums are in St. Mere Eglise and provide a really good picture
of the liberation of St. Mere Eglise, the surrounding towns and the D-Day landings.
| | |
| --- | --- |
| | |
| These are private memorials posted at numerous locations on the D-Day beaches | This is one of the original dummy 'paratroopers' that were ejected over the D-Day landing area to cause a diversion to assist the Allied Forces |
| | |
| These monuments are all over the D-Day landings area showing distances from Utah Beach | Utah Beach |