&nbsp&nbsp&nbsp&nbsp&nbsp&nbsp&nbsp&nbsp&nbsp&nbsp&nbsp&nbsp&nbsp&nbsp&nbsp&nbsp&nbsp&nbsp&nbsp&nbsp&nbsp&nbsp&nbsp&nbsp&nbsp&nbsp&nbsp&nbsp&nbsp&nbsp&nbsp&nbsp&nbsp&nbsp&nbsp&nbsp&nbsp&nbsp&nbsp&nbsp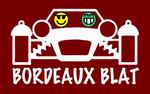 &nbsp&nbsp&nbsp&nbsp&nbsp&nbsp&nbsp&nbsp&nbsp&nbsp&nbsp&nbsp&nbsp&nbsp&nbsp&nbsp&nbsp&nbsp&nbsp&nbsp&nbsp&nbsp&nbsp&nbsp&nbsp&nbsp&nbsp&nbsp&nbsp&nbsp&nbsp&nbsp&nbsp&nbsp&nbsp&nbsp&nbsp&nbsp&nbsp&nbsp

Bordeaux Blat is a trip to Montignac hosted by fellow se7eners, Hugh & Kay Dent, who retired to France a few years ago. Hugh, Kay and fellow villagers, including the mayor, kindly accommodate us free of charge. Our personal thanks also go to Philippe & Cathy Fiorotto for their excellent hospitality over the past two years.
An immense amount of time and effort is spent by Hugh & Kay organising events such as visiting chateaux, tasting fine wines, river trips, visiting markets, BBQs and endless blatting on wonderful roads (not to mention the use of their swimming pool for cooling purposes). The highlight of the trip is a fete at the village hall commencing at 2.30pm with 'circuit rides' provided by us for the villagers around local roads which are closed for the event. This all culminated some 12 hours later after paella, copious quantities of wine and dancing to the blues band 'Cadijo'.
An article on the inaugural trip in July 2002 (7 pages, strangely enough), was written for the Club's magazine, Low Flying, describing the wonderful time we had and the great people we met. It appeared in the March 2003 issue and can be seen here.
2002

| | |
| --- | --- |
| | |
| Bordeaux Blat HQ | Our hosts, Hugh, Kay & Bouncer! |
| | |
| Chateau Chatelet, St. Emilion | Precision parking |
| | |
| Chocks away! | A bonnet-off moment! |
| | |
| Pre-party drinks | Some paella, eh? |
| | |
| The blues band, 'Cadijo' | The 'CAT' has got his hat on |
| | |
| Just one of many vineyards we visited | 7s at Chateau Vincent |
| | |
| Homeward bound | Last meal on French soil, Caen |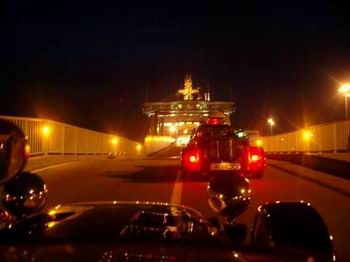 Boarding the ferry

2003
Let the banquet begin

They don't come any larger than this!

Follow the leader

Bazas Cathedral

Roquetaillade - a living chateau

My wine celler (I wish!)

Cooling off

and yes, we did eat it all!

Now that's what I call a seafood platter!

Working windmills at Chateau Calon, Montagne

Flaming Heck
(This photo taken by Maggie May made it into the Caterham Calendar for November 2005)

Keeping our noses in front

7s, a different view

Fish-eye reflection

Bonnet-off moment

One of many signs dotted around Montignac

Sign to HQ

Last night at Creon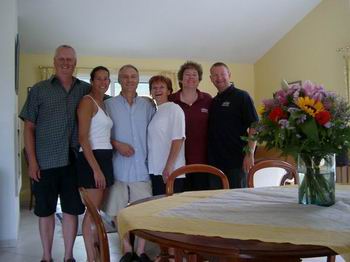 Famille Fiorotto et amis