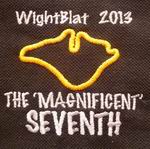 After a few years' absence we decided we would revisit the island again. The venue has now moved to the Shanklin Hotel, which the club books in its entirety and this works very well.

Alas, we had a wet journey down from Orpington until we reached the south coast at Arundel and then the rest of Friday was very pleasant. We arrived on the island and stopped off for lunch at The Garlic Farm and had a great lunch before marvelling at the wide range of products in the shop (garlic beer, garlic chocolate, garlic ice cream...) and then heading off to the hotel.
Saturday proved to be a washout! Although most people decided to go out in their 7s a good number of us decided to simply wander around the town, have coffee and wander along the beach before heading back to the hotel for lunch.
The afternoon was spent relaxing, chatting and enjoying a few drinks. The evening saw over 150 of us sit down together for dinner, have the obligatory raffle and then be entertained by a live band called The Monitors.
Most people elect to return to the mainland on the Sunday afternoon but a good number of us decided to stay the extra night. So after saying our goodbyes a small group headed off to Freshwater along the Military Road where we stopped for coffee before heading inland to Newport where we had lunch at The Pointer.
Then, back to the hotel after a small blat for more drinks, another wonderful evening meal and more live entertainment from a guitarist in the bar.
Finally, Monday dawns and we head back to the port at Fishbourne and on the way home from Portsmouth we decide yet again to stop for another pub lunch, this time at The Countryman before finally arriving home late afternoon.
Sadly, very few photos this year....
* * * * *



This event was organised by the Wight7s and from memory there were 97 Caterhams in total including those from the island. The event took place over the weekend of 3-5 April and the weather was kind to us. It had been arranged for us all to stay in the Whitecliff Bay Holiday Park and people were free to go and explore the island and meet back in the clubhouse in the evenings to eat, drink and be merry. Here are a few photos of the weekend.....
| | |
| --- | --- |
| | |
| After a mid-blat stop at Jill Judd's for coffee and croissants we arrive at the port and have a short delay.. | The Spinnaker Tower... |
| | |
| ... and another Wightlink ferry | HMS Gloucester - Type 42 Destroyer |
| | |
| View from chalet, Sarturday morning | This year's nosecone sticker |
| | |
| those 2 reprobates aka Webber & Walker | Godshill |
| | |
| Caterham Cars were present for the weekend bringing with them the new R300, R400 & R500 | The usual..... |
| | |
| ... photo opportunities | Roads through the centre of the island..... |
| | |
| ... tend to be a little more agricultural | On the ... |
| | |
| ...way to... | ...Alum Bay... |
| | |
| Preferential organised parking | That's one way to take a photo |
| | |
| Chairlift down to Alum Bay sands | The Needles |
| | |
| | |
| | |
| Andy Noble tries the 32 beer card flip.... | ....and succeeds |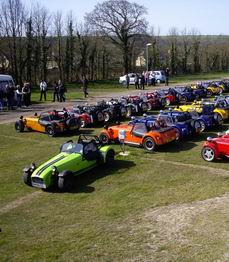 &nbsp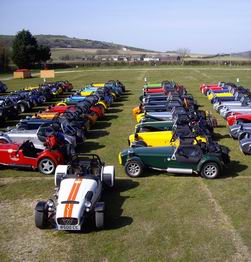 &nbsp