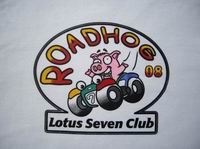 Roadhog 2008
This event, organised by the Surrey L7C, was in a similar format to previous events like Baywatch etc.
We all met up in Morrisons car park in Caterham and then wandered across to the showroom where Andy Noble and his helpers provided sausage and bacon rolls and hot drinks whilst we strolled round the showroom.
Following a safety briefing back at the car park we left in groups of 10 at 30 second intervals to wend our way through the country lanes and villages en route to West Wittering.
On arrival, some 100 miles later, we were directed to the Sevens only parking area (final count was 111 Sevens and 1 Caterham 21!) and enjoyed a scrumptious hog roast and then generally lazed around before strolling along the beach having an ice cream and enjoying a bit of kite-flying.
Just don't ask about the jesters in the hats. This seemed to cause more than a few smiles on arrival at Caterham and West Wittering amid accusations of too much emphasis on colour co-ordination!!!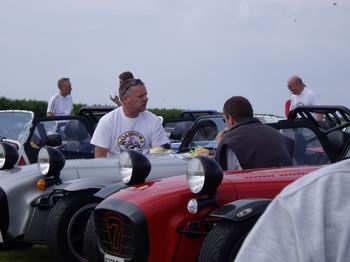 Never seen a 7 bonnet used as a dining table before. 10 out of 10 for ingenuity.