Clastres, France - June 2016

'La French Connection' was the idea of Nicolas Callewaert, France North AR. An international weekend meeting in Clastres in the north of France comprising British, French and Belgian Lotus Seven Club members and members of the online French 7 Forum 'Sevener'.

The event itself was due to start on the Saturday morning, but so as to avoid a crack of dawn start, ourselves and Ian Bruce decided to travel out to France the day before. We travelled to Calais via Eurotunnel and made our way to our hotel La Bonne Auberge, where we met up with Mark Benger who had departed the UK later that afternoon and we all enjoyed a nice leisurely dinner at the hotel.
The following morning we set off via D roads to meet up with everyone else at the Circuit de Clastres and whilst some people took part in the track day, we met up with our UK friends and made acquaintance with those from the French and Belgian contingent. At 5.30pm, we all enjoyed an aperitif and then played some games in our international teams. We lost the tyre rolling game, the tug of war was a draw and the drawing game (similar to Pictionary) was won by the Brits!
Nicolas had arranged for most of us to stay at Le Pot d'Etain in Holnon that night, a very nice hotel where we enjoyed a group dinner with excellent food and great company!
We all returned to the Circuit on Sunday and the track events continued, ending with an aperitif and 'goody bag' at lunchtime before everyone left to start their journey home. The whole event was very well organised and our thanks go to Nicolas and his team who obviously put in a lot of hard work to arrange such a well-attended event.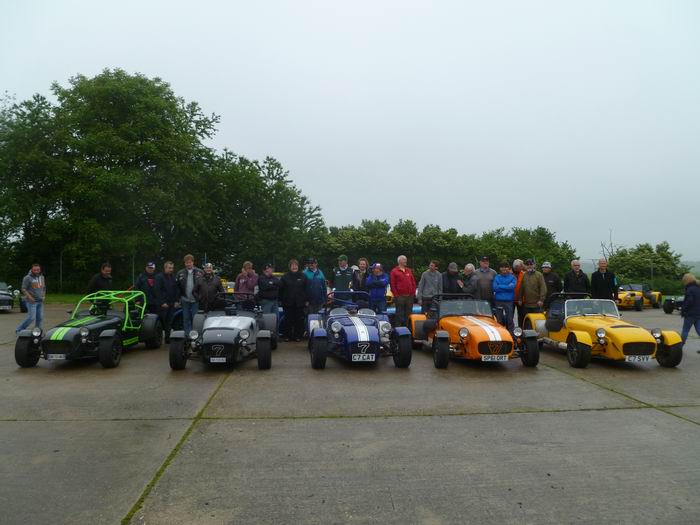 Doug & Shirley, Ian, Mark and ourselves had all previously decided to add an extra day onto the weekend and for that extra evening on Sunday, Ian had found a lovely hotel in Martin Eglise, near Dieppe, the Auberge du Clos Normand which had lovely rooms, beautiful riverside gardens and we all enjoyed a lovely dinner there (apart from Maggie who thought she'd finish dinner with a small, light souffle and was then served the biggest souffle you've ever seen for dessert - it was 6" wide and just fitted on a dinner plate!).
On Monday morning we all visited the Thiepval Memorial. Which is a vast memorial to the Missing of the Somme and bears the names of more than 72,000 officers and men of the UK and South African forces who died in the Somme before 20 March 1918 and have no known grave. The memorial also serves as an Anglo-French Battle Memorial in recognition of the joint nature of the 1916 offensive and a small cemetery containing equal numbers of Commonwealth and French graves lies at the foot of the memorial. The memorial was designed by Sir Edwin Lutyens and completed in 1932.
We were due to return to the UK that evening and the others were staying another night, so we started heading north, stopping for a coffee at Criel sur Mer and then all had lunch at La Terrasse in Saint-Valery-sur-Somme. We then carried on towards Calais and the others headed back down towards the hotel at Martin Eglise.