September 2007


At last! A Baywatch event with excellent weather.
This year our journey took us from Caterham to Bexhill and was affectionately known as 'The Blattle of Hastings'. Bexhill, for those that don't know, has a great motoring heritage - it is the first place to be used for motor racing in this country way back in 1902!
The day started off with registration in the showroom followed by bacon rolls and coffee on Caterham's forecourt and after the usual briefing from Chris Clark 89 sevens wended their way through picturesque B-roads, fast stretches and the usual tunnel.
On arrival in Bexhill we were marshalled onto the lawns at more or less the same spot the finishing line was placed in 1902. The 7s attracted a lot of interest from the locals and visitors and drew many admiring looks and favourable comments.
| | |
| --- | --- |
| | |
| Registration with Sue and Ray | Breakfast - Baywatch-style |
| | |
| The massed ranks of 7s or... | ...the calm before the storm |
| | |
| OK, who's the guy in the blue that can't park properly? | Chris Clark tries to ensure an orderly departure |
| | |
| Although we leave separately, it soon becomes a case of 'follow the leader' | 'Bunching' becomes a problem on narrow lanes. This one caused by a breakdown.... |
| | |
| ...and the view behind | Hardly the time and place for a BBQ! |
| | |
| Ok lads, I've got an idea...... | All's well that ends well..... |
| | |
| ...as the 7 was up and running again by late afternoon. | The end is in sight |
| | |
| | |
| | |
| | |
July 2005


Having missed 2004 as we were still on holiday in France, the opportunity arose to take part in another "infamous" Baywashout

.
As you can see from the following photos, it was a very damp start indeed. In fact, on two occasions not long after having left Caterham, we were all required to navigate two large expanses of water each about 4-5 inches deep, such was the volume of water cascading off the fields! Nevertheless, we all ploughed on and as far as I know everybody safely made it to the parking area at Climping.
Also on the way our trusty crossflow managed to notch up 50,000 miles. Here's to the next 50,000, at the rate we're going that will only be another 6 or 7 years.
On arrival we all formed a massive queue for a hot drink at the kiosk and rather overwhelmed the poor girl who was serving on her own, (don't think she'd ever seen so many people in one go!).
A large number of us wandered up the road to the local pub for lunch and by the time we had finished and returned to our cars there was nothing but clear blue skies to send us on our way home.
| | |
| --- | --- |
| | |
| Another wet start | Here we go again... |
| | |
| Wait for it ... | The speedo says it all |
| | |
| The usual precision parking | Someone's keen to make an impression |
| | |
| One of the smaller puddles encountered | 'Ere John, wot d'ya reckon on 'avin' these wheels away? |
| | |
| Always nice to see an old Lotus 7 joining us for the day despite the weather | The photo doesn't really show it that well, but I don't think C7 CAT has ever been as muddy |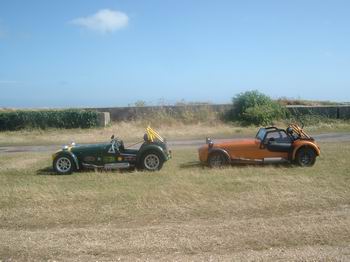 ...and yes this is the same day!

July 2003


After the weather we experienced in May 2002, it was decided to hold this year's event in July in the vain hope that we could expect some dry sunny weather. The early morning showers (they just had to make an appearance!) stopped before the start and we all enjoyed the run to Rye accompanied by some decent se7ening weather.
C7CAT managed a 'minor' heart-stopping moment on the way&nbsp

when an oil cooler hose popped out of it's fitting and became an all too efficient oil breather pipe! Fortunately, due to my extra large oil warning light, the zero bar reading on the oil gauge was brought to my attention and I managed to switch off and stop immediately (apologies to all those behind for the emergency stop). On exiting the car all I could see was an ever expanding pool of oil on the tarmac under the engine. This was not what I needed to see bearing in mind that I'm due to leave on the Bordeaux Blat in 2 days time.
Anyway, with the help of Arnie and 2 jubilee clips, a repair is manufactured while Ian and Steve trundle off in search of some replacement oil. With the engine 'topped' up with 3 litres of oil it's time to start the engine! Fortunately everything seems to be in order&nbsp

and we finally arrive in Rye for some long-awaited fish 'n' chips followed by a brief walk around the town before it's time to blat for home.
| | |
| --- | --- |
| | |
| | Ready for the off |
| | |
| Don't think this is supposed to happen! | It's not looking good from the front either! |
| | |
| Hello, hello, hello ... | Jubilee clips (and Arnie) to the rescue |
Nevertheless, we finally made it

May 2002


As those of you who were there know, it was a typical summer's day, i.e. it rained practically the whole time. On the way down we stopped at the Ringlestone Inn and drank a nice welcome hot cup of coffee huddled underneath the umbrellas in the pub garden. When we reached our destination of Broadstairs, to our complete surprise it was a beautiful sunny day. Unfortunately, however, on our return journey we got stuck on the A21 in a torrential downpour and got absolutely soaked to the skin! This was our first occasion being lashed by rain with only Brooklands aeroscreens for protection&nbsp

. Nevertheless, a great day was had by all.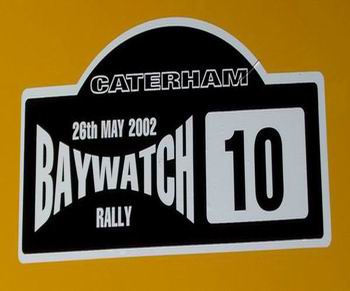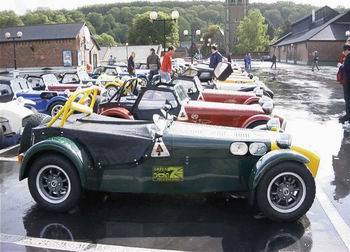 Waiting for the start and the rain to stop, which it never did!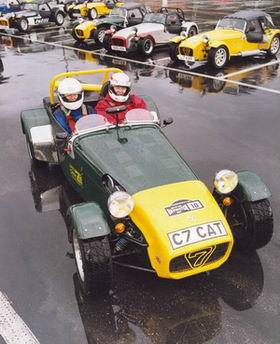 You can see why it's known as Spraywash!