&nbsp&nbsp&nbsp&nbsp&nbsp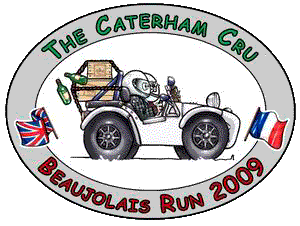 &nbsp&nbsp&nbsp&nbsp&nbsp

November 2009
It all started one Friday night in July when we watched a feature by Steve Berry on the 2008 Beaujolais Run which was shown on the TV programme 'Classic Cars'. We both looked at each other and agreed it would be a fun thing to do. So, we did some research on the 'Run and found that it is no longer the mad race to be the first to bring back the first bottles of Beaujolais (that all went pear-shaped the year the RAF entered some Harriers) but, in part, a navigational rally in the middle stage. However, in order to receive an application we would have to make a donation first. Not to be put off we made a donation and we were astounded to receive an email on the Sunday from the organisers saying:
"Thank you for your email. You and your Caterham would be very welcome - a smashing vehicle for the 'Run, perfect for France's spectacular D roads and very in-keeping with the 'Mad Dogs and Englishmen' spirit of the 'Run!"
We duly completed the attached entry form and kept our fingers crossed! On the Wednesday we received the good news, again by email:
"As we thought, just our sort of people!.... We have always wanted a Caterham (with the right people in the driving seat to take part in the 'Run and it seems we've found them and such a beautiful, well-travelled Supersprint to boot! We had a feeling from your first email, but to then note your friendly, fun, Beaujolais-spirited correspondence in between and your website, we knew we had to have you on! So welcome aboard - we'll send you the joining bumph under separate cover..."
Now the hard work was to start, as part of the condition of entry was that we had to personally pay the entry fee and in addition to that commit to raising a minimum of £2,250 for this year's nominated charities; CLIC Sargent and The Richard Burns Foundation (100% of all monies raised will go to these charities). So we contacted friends, family, work colleagues, club members and corporate connections and managed to raise a grand total of £3,024. We are therefore extremely grateful to all those who very kindly supported us.
Monday 16th November
We arrive at 1900 at the BARC Clubhouse at Brooklands for the Team Briefing and Signing On where we meet and greet fellow competitors. We receive our Team Goody Bag comprising Teamwear (Burlington rugby and polo shirts), PowerStar Go power source, ID passes, Team Blackberry and Team Information pack. Also there is an additional sticker replicating Henry Surtees helmet colours, which John Surtees has kindly given permission to be used for the first time since Henry's tragic accident.
Distance covered: 47 miles
Tuesday 17th November
Meet at Brooklands at 0700 and assemble on the banking for a photo shoot prior to departure.
This time cars are parked far higher up the banking than for the L7C event a few weeks ago. No H&S talk this time! Steve Walker and Paul Symonds have already arrived to see us off and take a few photos. Many competitors marvel at the 7 and politely suggest that we may be brave or mad!
Among the other cars are: Ferrari Daytona, 360 Challenge Stradale F1, 365 GTB 4 Daytona and 550 Maranello, Jaguar D-Type, XK8 convertible, E-type convertible and coupe, Panther Kallista, Lotus 2-11, Europa, Elise and Exige, BMW Z4, Morgan Plus 4, Aston Martin V8 Vantage, DBS, DBS Volante, Triumph TR5, Alfa Romeo GTV, Audi A3, Land Rover Freelander, MGB, Maserati GranTurismo, Triumph Stag and a Clenet Roadster (see a selection below):
We are one of 3 open top cars (excluding convertibles). The others are a Lotus 2-11 and a splendid Jaguar D-Type. We manage to chat with John Surtees who'll be waving us off at Eurotunnel. Finally set off through Brooklands garages and past Mercedes Benz World at approx. 08.45.
Arrive at Eurotunnel around 10.00 and get ushered through the tolls without stopping. As this year's theme is James Bond (we are celebrating the centenary of Cubby Broccoli's birth) we are met at the holding area by Tania Mallet (she played Tilly Masterson in Goldfinger). Also meet with John Surtees who kindly signs our Information Pack and suggests a photo opportunity and chat with Steve Berry and Anthony Reid.
We then have a look at the electric Ginetta G50 that John Surtees will drive through the service tunnel. Please click here to see a video report of this historic drive on Sky News website.
Finally we are waved off by JS and head for the train and an 11.20 crossing, once aboard a magnum of champagne is passed down through the train and after a short delay we set off at 11.35.
Weather thus far has been excellent a sunny crisp November day, but that all changes as we exit the tunnel. It has been raining quite heavily, but at least has now stopped as we leave the train around 12.15.
First stop is Champagne Taittinger's caves in Reims and we must be there by 16.00. No time for 3 course lunches as the time schedule is very tight and we are expected to eat on the move each day. Not long into the journey and the heavens open up suddenly making progress fairly treacherous. As we're on the autoroute we can't stop to put on our waterproof one-piece or even attach the half-doors. We get soaked! Although the rain does stop we don't fully dry out and as we enter Champagne Taittinger we receive many looks of incredulity and a round of applause. We are then given a private tour of the caves followed by brief chat by Pierre-Emmanuel Taittinger, the current custodian of the family business and naturally we are subjected to a few glasses of champagne!
We then head to our hotel and prepare to hit the town for a few celebratory drinks and a meal. This is the only night we have to fend for ourselves.
Day 1: 243 miles
Distance covered: 290 miles
Wednesday 18th November
We head back to Champagne Taittinger for the start of the navigational rally (we have a start time of 0750!), the object being to solve cryptic clues, arrive at each destination and do our best impression of various James Bond characters and photograph this on our Blackberry's and send them to HQ to prove we have completed each task successfully. In total there were 5 clues. Today is fancy dress day and all competitors are encouraged to be imaginative with a James Bond theme. Some people have gone to extraordinary lengths and there are some fantastic costumes.
In addition to solving the clues we have to aim to get to Macon in the shortest possible distance and for this there were 2 classes: GT1 Map only and GT2 Sat-Nav etc. We elect for GT2 and select the shortest route option. We are flagged away by Anthony Reid, weather is dry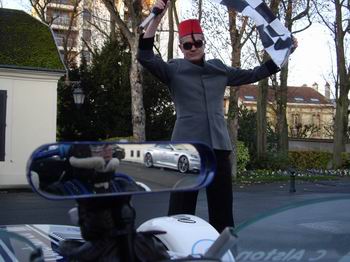 and sunny and we have wall-to-wall blue sky all day, and within 100 yards have to go through a No Right Turn! We then head off through an industrial estate and eventually find our way blocked by No Public Access. Not a good start as Sat-Nav says it's only 9 miles to first destination! On arrival we find that some competitors have driven through the middle of vineyards! We then proceed with Mission 2 and stick with the shortest route option and find ourselves in narrow village backstreets (it's difficult trying to be inconspicuous in a x/flow), driving through unmade roads through fields and generally driving where it looks like we shouldn't be! Maggie May came very close to having a 'sense of humour failure' when I hit a particularly muddy puddle, albeit at a fairly low speed, and a small bow wave came over the passenger side of the 7!!!. At this point we decided to choose the quickest route option, but avoiding the autoroutes.
| | |
| --- | --- |
| | |
Our rally took us to Verzenay, Dienville, Villaines en Duesmois, Prenois, Aloxe Corton and finally to Macon. The stage to Prenois instructed us to photo the navigator under the circuit sign by the main gates of the circuit doing their best Pussy Galore's Flying Circus. At this point we were to follow the signs to the rear of the pits where we were told that we had been given permission for 3 laps of the circuit at no charge. First lap would be following the safety car, second, a hot lap and finally, a warm down lap. That was the extent of the briefing, no mention of helmets or H&S!!!. Well, the safety car wasn't exactly slow and the warm down lap most certainly wasn't. Pleased to say that the 7 gave a good account of itself blitzing past several of the competition. In fact one guy said "You so have the right car for this" before we left the pits.
| | |
| --- | --- |
| | |
Most of the stages today had some excellent D roads and low flying was an extremely apt phrase for the rally. After a short break for a wash and brush up we are coached high above the vineyards on the Cotes de Brouilly to Chateau des Ravatys for a relaxed celebratory dinner to celebrate 150 years of Louis Jadot. Following a short talk by Baron Guillaume de Curieres de Castelnau, a master winemaker, we taste this year's Beaujolais
before the official launch at midnight and then enjoy a sumptuous dinner. We then take the coach to Beaujeu to join the local vignerons for the release of the wine. There is much partying in the town square
with live bands and fireworks and the wine flows free and more importantly freely, all you need is your own wine glass! We eventually hit the sack back at the hotel at 0230!
Day 2: 255 miles
Distance covered: 545 miles
Thursday 19th November
Today seems a bit low key as people recover. We all head back to Reims and as the rush hour in Reims can be a nightmare from 1600 most of us decide to blast up the autoroutes and get to Reims for lunch. We finally leave Macon around 1030 and after nothing more than a couple of petrol stops we arrive in Reims at approximately 1400. After an extremely foggy start to our journey today (first 95 miles), the weather again is wall-to-wall blue sky. After lunch and a short stroll around the markets we retire to catch up with some Zzzzzzs before the final night's dinner. We all meet in the bar at 1830 for a few drinks and then we are taken to Chateau de La Marquetterie in Pierry near Epernay,
| | |
| --- | --- |
| | |
which is Taittinger's showcase vineyard and we will have dinner in the 18th century pressing room which had been beautifully decorated. In addition to some excellent French fare we are treated to 5 different champagnes, each one introduced by Justin Llewellyn (son of Desmond whom we all know as 'Q') who is an ambassador for Taittinger. The guest speaker tonight is Eddie Jordan, a patron of one of this year's nominated charities, CLIC Sargent.
The evening's entertainment is a small band comprising Eddie and a couple of friends. I know Eddie Jordan has his own band but there's something quite surreal seeing Eddie sitting on a large cardboard box and using it in place of his usual drums and even stranger is witnessing him playing the spoons!
After a cracking evening partying away we finally head back to Reims and prepare for the last day.
&nbsp&nbsp&nbsp&nbsp&nbsp
Day 3: 250 miles
Distance covered: 795 miles
Friday 20th November
After breakfast 12 teams head off to Circuit de Reims for a photo opportunity and a few blasts along the main straight.
We all have a bit of fun and then the Gendarmes arrive just as the D-Type goes flying past. Strangely enough the Gendarmes tell a few people off for not parking properly by the side of the road and then disappear off into the distance. We all agree it's best to quit while we're ahead.
It's so warm today that most people are wandering around in T-shirts, sadly it wasn't to last as we hit heavy rain again about 20 miles outside Calais as we head to Tunnel sous La Manche for the 1550 crossing. There is much talk on the crossing of meeting up again next year and everybody says their goodbyes before we all depart on our separate ways home.
We finally get home around 1630 after a fantastic time.
Day 4: 227 miles
Distance covered: 1,022 miles
Many thanks again to all of you who supported us.