Bergerac Blat 2010
This year, our group comprising Jenny & Steve, Mike, Tam & Little Al, Andy & Lin, Clive & Yvonne, Mike & Val, Al & Marg, Bernard & Ali, Adil and Crudders, were invited by Brent & Tricia to celebrate Brent's 60th Birthday at Les Grand Chênes near Monbazillac in Bergerac. This year the group all made their own travel arrangements and a few of us stayed at L'Auberge de Launay in Limeray near Amboise on Friday night.
Unfortunately, this year we had more than our fair share of problems (please scroll down to beneath the photos for more details!) but apart from all that, we had a great week, plenty of relaxation, plenty of fun and the odd bottle of wine and beer...
| | |
| --- | --- |
| | |
Pole position on the ferry!
| | |
| --- | --- |
| | |
| | |
| | We all clubbed together to buy Brent an AMG Experience at Mercedes-Benz World |
| | |
| 'Little Al', the newest member of the Alice trips! | |
| | |
| | Darth Vadar appears to have landed in the garden! |
| | |
Jenny & Steve organised a lunch and wine tasting at Laithwaites' vineyard 'Chai au Quay'
Loud shirt competition and Chinese lantern race!
French-themed fancy dress competition!

| | |
| --- | --- |
| | |
| En route to... | ...the Midi-Pyrenees |
| | |
| Les Cascades de Roquefort | Removing the thermostat |
| | |
| | Le Chateau de Foix |
| | |
| View from Mirador Roc del Quer (and below) | Road from Canillo to Ordino |
| | |
| | La Estructuras Autogeneradoras designed in 1991 by the Mexican Architect Jorge Dubon |
| | |
| --- | --- |
| | |
| Lunch at Ordino | End of the road, waiting for recovery |
| | |
| Being recovered | |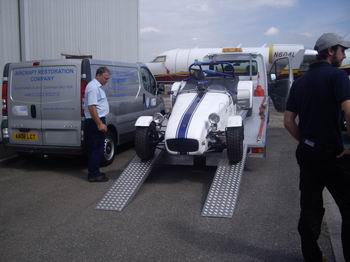 Return to Blighty


As referred to above, here is our story...

Firstly, Crudders' radiator started to 'weep' and ended up 'gushing'. So he was recovered to a local garage, who it appears carried out unauthorised repairs and not very well. They re-cored the rad (it's an original CovRad on a x/flow) using a core with a smaller width than the original! Cost €600. However, it has at least enabled him to drive home to the UK.

Secondly, Tango Tart had overheating problems and was constantly getting rid of airlocks on his R300. Eventually he decides that it's a potential head gasket failure waiting to happen and he arranges for his 7 to be repatriated. He and Jenny are flown home.

Thirdly, my story.....

It all began at our first fuel/lunch stop aftyer 2 hours of driving. I get back in the car and it is as dead as dead can be. I've long suspected that the alternator is not quite right and travelling down with the headlights on appears to have drained the battery. However, after 2 hours on the solar-powered battery charger it actually starts. I don't bother using the lights again.

We then run into very heavy traffic near Paris due to accidents. I watch as the temp gauge hits 120C and then the expansion cap does its job and blows. The expansion tank is on the heater, so coolant enters the footwell from above and I'm only wearing shorts. Fortunately we're stationary...I have never taken off the harness and jumped out of the 7 so quickly before. I manage to chuck cold water over my lower leg and apply some Savlon and manage to prevent any serious scalding.

After some considerable time the engine cools and we top up with hardly any water at all. So on we go. About an hour later we hit more traffic and I'm about to join a 3-lane motorway and I'm right on the white lines between the slip road and the M-way as we merge with the stationary traffic when it all happens again. We now have to push the 7 off the M-way via a fortunately placed slip road 300m ahead. Funny thing is we're actually travelling quicker than the rest of the traffic. It is here that Crudders gets recovered to a local garage in Paris. We all follow, once my engine has cooled down. Whilst Crudders is dealing with the garage and recovery services I take a careful look at the engine bay and discover that the piggyback connector for the fan override switch has broken. I have been travelling, possibly all day, without the fan working at all!!! No wonder the bloody thing keeps over heating.

During our stay in Bergerac my battery goes flat again, so I clean and tighten the connectors to the alternator and take it for a drive. The battery charges fine, but with the engine on there is only approx. 13.2 volts, it is still not right, but I don't have any more problems.

At the end of the week's stay in our Gite, Maggie and I head off for the remaining part of our holiday; a 5 night stay at a Chambres d'Hotes near Foix, the aim being to do some blatting and sightseeing in The Pyrenees.

All was well when we left on the Saturday morning, but it just got hotter and hotter the further South we went and the temperature gauge never really dipped below 100C, but we arrived at our destination and I thought all was well.

So Sunday morning we went off to our first 'sightseeing' stop and within 2 miles the temp gauge hit 110C! So we returned to our Chambres d'Hotes and after conferring with a few fellow seveners via text I drained the coolant and removed the thermostat. Subsequent tests in our hosts' kitchen proved the problem to be a stuck/broken thermostat. Hooray, problem solved. Also the battery went flat again, so I checked and cleaned the contacts on the alternator again.

Monday, our hosts tell us that the weather is good for the mountains so we head south to Andorra for some blatting. We get stuck in slow moving traffic and although the temperature rises it doesn't appear to be a problem. However, not long after the car starts making some unusual 'tapping' noises and I know something is definitely wrong. However, we manage to get some blatting done along a great mountain pass, do a little shopping and then decide to head home.

We are now some 80 miles south of our base and I'm just in the process of overtaking on a dual carriageway and the engine starts sounding like a 'bag of nails'. I manage to shutdown and head for what is a feeble effort of some hard shoulder, just wide enough for the 7! I know by this time that it's terminal!! See Zetec conversion

We manage to cross to a small patch of grass on the other side and call Britannia Rescue, the company that Steve had so much trouble with. After explaining our predicament their first question was 'Are we OK, do we have water and do we have any shade?' Unfortunately we have just one small warm bottle of water left. It's 32C and there's no shade!

Within 10 minutes a local Andorran stops and asks if we are OK and says he has a friend with a tow truck just 2k away. We thank him for his concern and explain that we have already contacted our recovery services and that everything is in hand. He insists we still have his name and contact no. and then leaves. 20 minutes later the flatbed arrives followed by an English speaking mechanic. We are then recovered to a local garage and, lo and behold, we meet our 'friend' again as we have by some strange quirk of fate been recovered by the very person that he was referring to.

Britannia now arrange for a taxi for the 2½ hour trip back to base. Where we are staying is even more 'back of beyond' compared to Les Grands Chenes and we actually have to lend the taxi driver our Sat-Nav to get us there! On the way back Maggie and I decide to quit and run and ask Britannia to arrange flights home and insist that the car has a specialist engine and no way must they attempt to repair it and that it should be repatriated.

We were planning on eating out that night but now have to telephone our hosts and request dinner at short notice, but they are a nice British couple and were very supportive, so much so that they said they wouldn't charge us for the 2 nights that we had booked, Tues and Wed, that we wouldn't be using. They even let us use their computer to print out e-tickets from RyanAir and provided us with 2 holdalls to put our stuff into.

We now have confirmation of flights to Stansted from Carcassonne at 1330 the following day (Tuesday) and a taxi to take us to the airport in the morning.

The taxi that collects us doesn't appear familiar with the local area and we spend the first 15 minutes going round in circles. I know we are going wrong but can't offer assistance as the Sat-Nav's batteries run out. Our taxi keeps stopping and looking at nothing more than a photocopied map! I just know we're now going to miss the flight! Especially as we manage to travel along one small stretch of road 3 times. Zut alors! Anyway we do get there 10 minutes before check-in. There is some humour as firstly the check-in girl finds the shape of the Re-Bag a source of amusement and points it out to all her colleagues and then at security they ask to look in my bag and the girl picks out our WW2 flying goggles and has to share her amusement with everyone else. Hey ho!

We see our flight arrives early and we actually board in plenty of time, go through all the safety blurb, only for the captain to tell us that Air Traffic Control is poor in this area and we now can't start the engines for 50 minutes.

Eventually we get to Stansted, collect our taxi and walk in the front door at 1640 just over 24 hours from making the call to Britannia the previous day at 1530.

Within 15 minutes Britannia call to check we have arrived home safely and ask me to provide a list of items left in the car so they can ensure that nothing goes missing. They confirm that the car will be returned via an 8-car transporter within 10-14 days and is there room in our road for this to turn around. Ha ha, I explain about living in a cul-de-sac and arrange for the car to be dropped of at Maggie's hangar where it will be easy for me to collect.