Following our stay in Cercoux we headed south towards the Pyrenees to meet up with the rest of the 'Alice' group for a week's stay at Le Moulin de la Materette in Durban-sur-Arize.
The moulin is run by Nick and Fran Davidson and they were most welcoming and helpful during our stay. This included a shopping service (small charge) so that food and drink was available on arrival and a lovely first night meal (again, a small charge). They even let us loose on their wine cellar and charged us just €3 a bottle for the privilege! Judging by their faces at the end of the week I think it would be fair to say they looked more than a little surprised at how empty the cellar was!!!
Our home for the week....
This year we were staying very close to the route that the Tour de France was taking and so on the Sunday we set off to watch the race as it climbed its way through the Pyrenees. We had decided to go to the Mur de Peguere and found ourselves with nearly an hour's walk to get to the viewing point as it just wasn't possible to drive any closer due to the sheer number of parked cars!
The atmosphere was amazing as the caravan passed through with thousands of people lining this very narrow climb. Soon, we saw the arrival of 4/5 TV helicoptors in the valley and we all knew it wouldn't be long before the leaders and the peleton passed through.
The following photos don't really capture the atmosphere, but nevertheless......
| | |
| --- | --- |
| | |
| | |
| | |
| | |
| | |
| | |
| | |
| I was lucky to get a good shot of Wiggo | |
| | |
| I even managed to spot myself on the TV coverage.... | ....in the bush hat on the left and right respectively |
| | |
| --- | --- |
| | |
| | |
| | |
| --- | --- |
| | |
| | |
On the way home we stayed for one night at Chateau de la Motte, a really nice place. We were treated to free drinks on arrival and dinner was served in a banqueting hall with all guests sat around one table and the food was served by our host in medieval costume.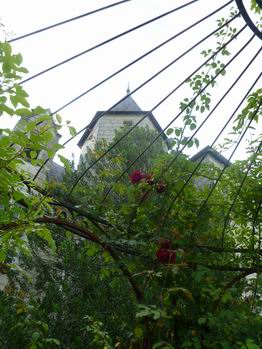 | | |
| --- | --- |
| | |
| Lunch in Gace...... | ...on the way to the ferry |